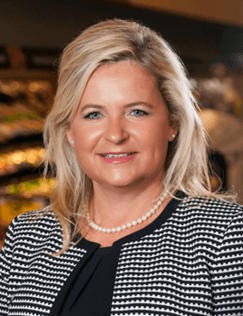 Speaker
Valerie Jabbar
---
Group Vice President, Merchandising
The Kroger Co.
As group vice president of Merchandising, Valerie leads a team of more than 700 associates at The Kroger Co. She is responsible for Digital Merchandising, Grocery & Natural Foods, General Merchandise, HBC Non-Foods and Promo Planning & Marketing.
 
Valerie began her career with the Fry's Division in 1987 as a clerk. Over the past 30 years, she has held several leadership roles, including assistant store director, category manager, Drug/GM coordinator, General Office Seasonal manager, assistant director of Drug/GM and director of Drug/GM, as well as district manager in the Fry's Division. In 2012, Valerie moved to the Mid-Atlantic Division to serve as vice president of Merchandising before moving to the Ralphs Division in 2013 as vice president, Merchandising, and later division president in 2016. She was promoted to her current role in 2018.
 
She was named 2018 Woman Executive of the Year by The Shelby Report and in 2012, Progressive Grocer recognized Valerie with the Top Women in Grocery "Rising Star" Award. She is a board member for the Western Association of Food Chains (WAFC) and serves as a mentor for the Ralphs Division Women's EDGE ARG.
 
Valerie attended the Colorado Institute of Art and has also completed leadership seminars at Babson University and Darden University.